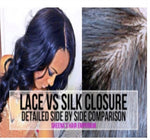 The Differences Between Lace vs Silk Based Closures
"She was her own muse" - Unknown
Ever find yourself wondering what the difference is between lace and silk based closure pieces? Don't worry, I'm going to break it down so that you and your stylist can decide on the best option for you. 
What is a Closure?
By definition a closure is referred to as an oblong or square-shaped piece of fabric, that has hair attached to it, with the sole purpose of being placed on the top or side of your hair to be used as a finishing piece to close in an install (sew-in or quick weave). 
Types of Closures
In comparison, both lace and silk closures help to secure and close the install.  If properly installed both of them offer a complete look while creating the scalp-like effect.
However, the difference lies in it's base:
Foundation: the first difference is pretty self-explanatory. One has a silk base and the other lace with an end goal to mimic the scalp.
Colors: The lace closure exists in much more different variations/colors than the silk, those colors are made to match the scalp color. Silk closures do not have as many options.
Construction: The texture of the lace base is very thin and semi-transparent. However, the silk base is thicker in texture posing an obstacle to lay flat after being installed.
Who needs a Closure?
Closures have become very popular for natural women that do not want the burden of having  leave-out. A lot of our natural friends wear them because they don't want to risk leaving hair out and possibly damaging it. Instead of traditional sew-ins, many women are opting for total protection by finishing off their style with a closure piece. Closures are also ideal for women that battle with hair loss. This piece comes in various sizes and if properly installed, it mimics the scalp & generally matches perfectly to the weave itself. Since your own hair will be totally protected underneath, you reap the benefits of keeping your own hair healthy (no heat), while completing the style of your choice. The flexibility and versatility of closures make them applicable for just about all types of hair, whether natural, scanty, permed or the less thrilling receding hairline.
I always convince my clients to get lace over silk because you can customize them so much better than the silk closures. Everybody has a preference! What's yours?
Detailed Side By Side Comparison - Silk Vs Lace
Our Dear Friend Christian breaks down the difference between the two types of 4 X 4 closures that we offer. Watch the video from start to finish so that you can see which kind of closure she prefers. 
Sheena Scott
Healthy Hair & Extention Specialist-Salon Owner-Entreuprener